West Scotland fish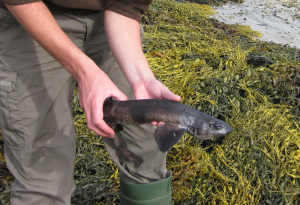 Observation - West Scotland fish - UK and Ireland. Description: We found this fish which had been caught in a rock pool when the tide went out and was being mobbed by gulls. Once it was put back into the sea it swam off into the seaweed. It was about 18 inches long. It was on the West coast of Scotland near Mallaig
We found this fish which had been caught in a rock pool when the tide went out and was being mobbed by gulls.
Once it was put back into the sea it swam off into the seaweed.
It was about 18 inches long.
It was on the West coast of Scotland near Mallaig.
Main navigation