Whooper Swan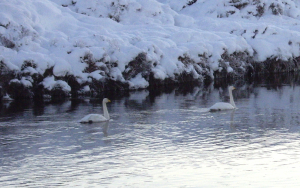 Observation - Whooper Swan - UK and Ireland. Description: We saw these two swan on the upper reaches of the River Inver at dusk. They were not that near and in the fading light it was difficult to make out colours, but their continuous calling seemed distinctive of Bewick's. Given to comment below and I accept
We saw these two swan on the upper reaches of the River Inver at dusk.
They were not that near and in the fading light it was difficult to make out colours, but their continuous calling seemed distinctive of Bewick's.
Given to comment below and I accept the alternative ID that they are Whooper's.
Main navigation