Captive Raptor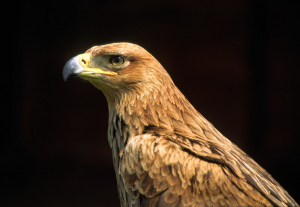 Observation - Captive Raptor. Description: First, I want to be very clear that this is a captive bird at The Raptor Foundation near Huntingdon. They rescue injured wild birds but also unwanted domesticated birds. I wouldn't normally add anything captive
First, I want to be very clear that this is a captive bird at The Raptor Foundation near Huntingdon. They rescue injured wild birds but also unwanted domesticated birds. I wouldn't normally add anything captive but I'm intrigued about an id.

This dates from maybe 7 years ago (the date is a guess) on my beloved old Canon EOS 3 and Fuji Velvia film. At the time, I was much more interested in the photo than the identification and, like an idiot, didn't write down any details.

Being very much a portrait, there's little of the bird visible, I know. I've always referred to it as "my buzzard" which vary but I'd expect some flecking. There were other species at the foundation such as a Harris Hawk which, I think, has a heavier beak. This beak looks quite chunky.

What does the team think about this character?