Angle Shades larva - see notes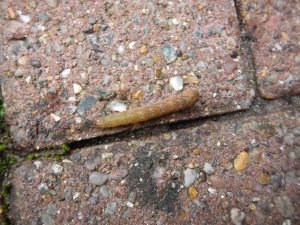 Observation - Angle Shades larva - see notes - UK and Ireland. Description: This caterpillar was rescued from my pond after cutting back Iris. The block paving is 10cms wide so I have calculated the larva length at 4.3 cms. I later found a smaller one. A rather indistinct white dorsal line, very sparse spiky hairs and an almost
This caterpillar was rescued from my pond after cutting back Iris. The block paving is 10cms wide so I have calculated the larva length at 4.3 cms. I later found a smaller one.
A rather indistinct white dorsal line, very sparse spiky hairs and an almost glassy looking head.
This is the brown version but it seems they are mainly bright green?
How does one distinguish between Angle Shades and Small Angle Shades?
Of course it could be something completely different!
Main navigation