Colonial sea squirt (Salpa spp. - Class: Thaliacea) or a String jelly (Agalma elegans)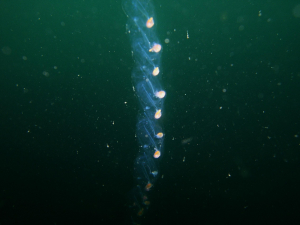 Observation - Colonial sea squirt (Salpa spp. - Class: Thaliacea) or a String jelly (Agalma elegans) - UK and Ireland. Description: Please excuse the image quality; due to the highly transparent appearance of these animal(s), getting a clear photograph underwater is difficult. Both possible IDs are very similar animals with appearance and their pelagic life style, but coming from comp
Please excuse the image quality; due to the highly transparent appearance of these animal(s), getting a clear photograph underwater is difficult. Both possible IDs are very similar animals with appearance and their pelagic life style, but coming from completely different taxonomic groups.
The string jelly (Agalma elegans) is a member of the order Siphonophora; a cnidarian class Hydrozoa. A. elegans is distinguishable by the bright orange/red patches which attaches to the tentacles. A. elegans have been recordings have been published on the NBN around the north west of Scotland and Orkney and have been known to drift into UK waters via the Atlantic.
The other possible ID could be a colonial salp species, which is a member of the tunicates or the sea squirts class Thaliacea. The bright orange opaque organs could well be the gonads and gut. One other particular feature was an opening which could be the siphons, a feature in tunicates. The closest genus I could find similar to my image is Salpa spp. and the NBN also have records at various locations around the north west of Scotland. If you compare google images of Salpa spp vs Agalma elegans you will see how closely similar these species are despite being taxonomically unrelated.
Main navigation