unusual whitebeam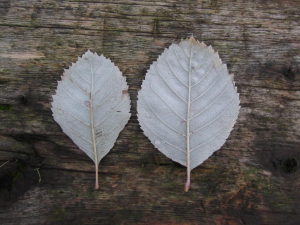 Observation - unusual whitebeam - UK and Ireland. Description: Two small trees of a whitebeam growing at the edge of an small area of woodland. (Further south the woodland lies along a steep slope, but here the slope has reduced.) Leaves rather small, broadly ovate, with about 7 pairs of veins, white-tomentose bel
Two small trees of a whitebeam growing at the edge of an small area of woodland. (Further south the woodland lies along a steep slope, but here the slope has reduced.)

Leaves rather small, broadly ovate, with about 7 pairs of veins, white-tomentose below, and cuneate at the base. The fruits present have dried out, are narrowly ovoid (possibly relating to have dried out) and appear to be seedless.

Similar plants are present on the greenways (old railway lines) to the east, but I haven't checked recently to see how close a match they are.

It's not obvious whether these trees are self-set or whether they were planted.
Main navigation