Fungus comfort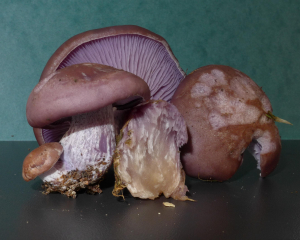 Observation - Fungus comfort - UK and Ireland. Description: My comfort-cushion, of knowing Wood Blewit when seeing it, has been deflated. There are some diff
My comfort-cushion, of knowing Wood Blewit when seeing it, has been deflated.
"There are some difficulties distinguishing between Lepista nuda, L.sordida and L.saeva from either photographs or casual observation" is from the Web.
In an attempt to bring back some comfort, I offer a series of pictures which may help those who do not have the facility to look closely enough at spore shape. Beware though, the more mature the specimen the harder it will be to separate.
EDIT - added 2 prints
FURTHER EDIT changed location
This occurs in my garden, hence the tag Smoogro, but some of these pictures are taken in Binscarth woodland - here
https://www.geograph.org.uk/photo/3735738
See Comments
Main navigation