Some features of this Sphagnum (Ashdown Forest)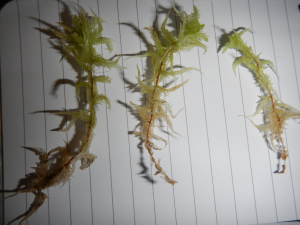 Observation - Some features of this Sphagnum (Ashdown Forest) - UK and Ireland. Description: Found immediately next to a pond in Heathland and Grassland (Purple Moor-grass). Features: 1. Stem cortex is conspicuous. 2. Leaves of the spreading branches are straight when viewed from above. 3. Stem leaves sticking out from the stem at an angle of
Found immediately next to a pond in Heathland and Grassland (Purple Moor-grass).
Features:
1. Stem cortex is conspicuous.
2. Leaves of the spreading branches are straight when viewed from above.
3. Stem leaves sticking out from the stem at an angle of about 45 degrees.
4. Branches attached to the stem singly.
5. Stem leaves the same size as branch leaves.
6. Stem browny-red.
7. Branches, branch leaves, stem leaves and capitulum light green.
8. Doesn't look like there's an open bird's beak.
9. Stem leaves rounded at first but narrowing into a point.
10. Easy to separate branches hanging down from the stem due to the stem's bold colour.
11. Branch leaves' edges curved up giving the impression of a boat shape.
12. The edges of the stem leaves are curled up too.
13. The upper margins of the stem leaves are smooth (not frayed).
Main navigation