Brynna 16oct2014 001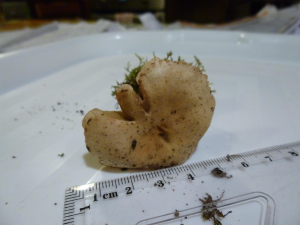 Observation - Brynna 16oct2014 001 - UK and Ireland. Description: On compacted soil with moss around, not sure if buried wood. In a group with some tufted Cap to 4.5cm not viscid tan. Young specimen showing brown flecks and 'veil covering gills (last 2 photos). Gills darker than cap regular fairly open. Stem to 2.5c
On compacted soil with moss around, not sure if buried wood. In a group with some tufted
Cap to 4.5cm not viscid tan. Young specimen showing brown flecks and 'veil covering gills (last 2 photos).
Gills darker than cap regular fairly open.
Stem to 2.5cm tapering to base similar colour to gills on older, younger with brown flecks.
Musty/mushroomy smell.
Section stem dark brown to base, flesh fairly thin light tan, gills to 7mm darker.
Spore print tan.
Main navigation