strange spikey plant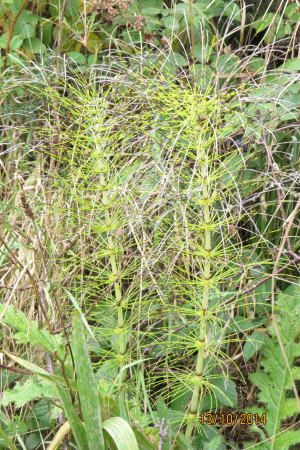 Observation - strange spikey plant - UK and Ireland. Description: odd looking but quite pretty plant growing in my field. it has the look of some kind of soft bamboo stem with pretty frills that protrude up the stem. there are some dead ones in the hedge therefore not an evergreen. they are about 1.5 ft high grows in
odd looking but quite pretty plant growing in my field. it has the look of some kind of soft bamboo stem with pretty frills that protrude up the stem.
there are some dead ones in the hedge therefore not an evergreen. they are about 1.5 ft high
grows in small clusters of one or two plants, mainly in hedgerow but the odd one has attempted growth in the field.
Main navigation