huge bird in a tree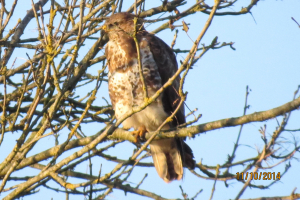 Observation - huge bird in a tree - UK and Ireland. Description: huge bird in a tree in the back garden. it looked massive, bigger than a pheasant and quite heavy. the photo was taken with a zoom lens from quite a distance, hence the poor quality of the image due to camera shake. its colour resembled that of a tawny o
huge bird in a tree in the back garden. it looked massive, bigger than a pheasant and quite heavy. the photo was taken with a zoom lens from quite a distance, hence the poor quality of the image due to camera shake.
its colour resembled that of a tawny owl or similar birds of prey such as kites or buzzards.
yellow and black hooked beak, yellowish legs, small beady eyes that look to be brown, black toenails or talons.
Main navigation