Brynna Woods 7oct2014 001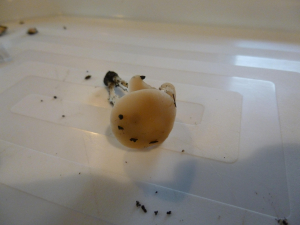 Observation - Brynna Woods 7oct2014 001 - UK and Ireland. Description: Seemed to be growing on soil under Oak small clumps. Cap dull light tan 2cm across 1.5cm height. Drying to clay colour.Smooth. Gills regular close similar colour to cap. Stem 5cm x 3mm off white fairly stiff slightly curved from base hollow slightly fi
Seemed to be growing on soil under Oak small clumps.
Cap dull light tan 2cm across 1.5cm height. Drying to clay colour.Smooth.
Gills regular close similar colour to cap.
Stem 5cm x 3mm off white fairly stiff slightly curved from base hollow slightly fibrous.
Slight mushroomy smell.
Spore print dark brown.
Main navigation