Marsh Webcap (Cortinarius uliginosus)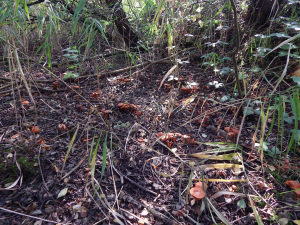 Observation - Marsh Webcap (Cortinarius uliginosus) - UK and Ireland. Description: Found under Salix. Dry, dark orange/brick red, umbonate cap enclosed by a veil when young. Cap fibrillose and silky. Orange banded, fibrillose stipe same colour as the cap., yellow at the apex. Bright yellow notched gills when young which darken to cop
Found under Salix.
Dry, dark orange/brick red, umbonate cap enclosed by a veil when young. Cap fibrillose and silky.
Orange banded, fibrillose stipe same colour as the cap., yellow at the apex.
Bright yellow notched gills when young which darken to copper red.
Bright yellow flesh.
Spores lemon shaped and warty. 9-11 x 5-6 microns.
No obvious cystidia seen.
Main navigation