Common Pine Sawfly - larva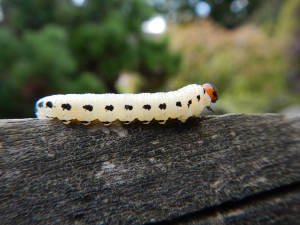 Observation - Common Pine Sawfly - larva - UK and Ireland. Description: I posted one of these yesterday but today three more appeared and I got better shots of them. They appear to be D. pini but this is only the most likely from all those I have Googled. The fine black specks turn out to be tiny bristles, clearly seen in p
I posted one of these yesterday but today three more appeared and I got better shots of them.
They appear to be D. pini but this is only the most likely from all those I have Googled.
The fine black specks turn out to be tiny bristles, clearly seen in pic 3.
I also found a shuck, on a small cupressus growing next to a small pine on our rockery, which is shown in pic 5.
Length approx. 22-24mm.
Main navigation