Tree Snipefly, Buckinghamshire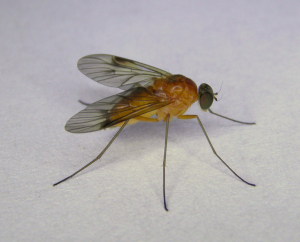 Observation - Tree Snipefly, Buckinghamshire - UK and Ireland. Description: This snipefly was considered a rarity of ancient forests until quite recently, when it has started being found a bit more widely (see jeremyr's other observations on iSpot for instance). Even so, I didn't expect to find it in my kitchen! From a distanc
This snipefly was considered a rarity of ancient forests until quite recently, when it has started being found a bit more widely (see jeremyr's other observations on iSpot for instance). Even so, I didn't expect to find it in my kitchen!

From a distance I assumed that it was going to be one of the common snipeflies, but when I had a closer look the lovely orange colour and the wing markings marked it out as C. laetus.

It's lovely to see this species, which was new for me, but it's also a bit frustrating to find it in this rather random way! I haven't learned anything about how to find it in the field, nor about its habitat requirements. There are some large Ash trees nearby, but it's quite some distance to the nearest Beech and even further to any Poplar, the two trees most often associated with the Tree Snipefly.
Main navigation