P1000800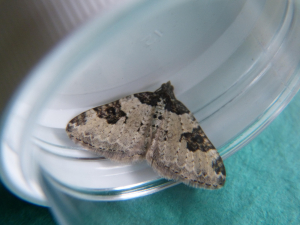 Observation - P1000800 - UK and Ireland. Description: Can anyone please help me identify these moths, which were trapped in my garden, on May 28th, 2014. (Location - Omagh, Co.Tyrone, Northern Ireland). I would be very grateful for your help. Thank you. Carpet Moth - approx. 12mm body length x 26mm win
Can anyone please help me identify these moths, which were trapped in my garden, on May 28th, 2014. (Location - Omagh, Co.Tyrone, Northern Ireland). I would be very grateful for your help. Thank you.

"Carpet" Moth - approx. 12mm body length x 26mm wing span.

White -ish moth - approx. 12 mm body length x 28mm wing span.

Larger "Brown" moth ( 2 x pictures, showing top and underneath) - aprrox. 14mm body length x 17mm wing span (moth's rear end was slightly uplifted).

Smaller "Brown" moth - approx. 8mm body length x 22mm wing span.

"Black and white" moth - this wee fella (lady???) was TINY. Body length, approx. 5mm. Wings folded back over body. A slight "tuft" at the rear end.
Main navigation