Sea Spurrey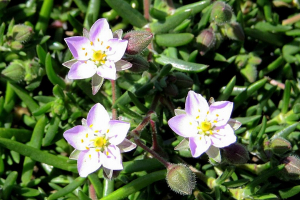 Observation - Sea Spurrey - UK and Ireland. Description: Growing on the cliff edge of Bury Holmes, Rhossili. Low growing about 6cm maybe. Flowers pink tipped, white centre. 5 petals. Flower buds hairy. Leaves fleshy. Not sure at all of the which of the Sea Spurrey this might be. Is it too early for s. Rupic
Growing on the cliff edge of Bury Holmes, Rhossili. Low growing about 6cm maybe.
Flowers pink tipped, white centre. 5 petals. Flower buds hairy.
Leaves fleshy.
Not sure at all of the which of the Sea Spurrey this might be. Is it too early for s. Rupicola? Seems to be too low growing for S. Media or marina.
All corrections appreciated.
Main navigation