Flower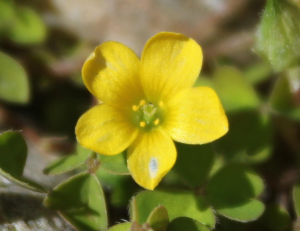 Observation - Flower - UK and Ireland. Description: Yellow flowers with 5 petals (petals approx. 3mm, whole flower approx. 7mm diameter). Petals are rounded or slightly pointed. Flowers are individual (not in clusters). (Flowering in May) Leaves are green, arranged in 3 heart-shaped leaf sets, and bend ba
Yellow flowers with 5 petals (petals approx. 3mm, whole flower approx. 7mm diameter). Petals are rounded or slightly pointed. Flowers are individual (not in clusters). (Flowering in May)
Leaves are green, arranged in 3 heart-shaped leaf sets, and bend back, like wood sorrel. Very pronounced slit down the middle of each leaf to give it the heart shape. Leaves are hairy on the underside and on the stalk.
Plant creeps across the ground, living on the little soil found amongst the pebbles in the garden.
Main navigation