Bryozoan colonies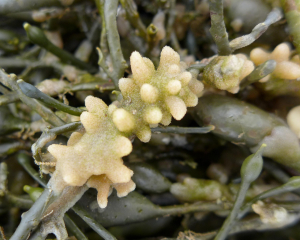 Observation - Bryozoan colonies - UK and Ireland. Description: A great swathe of these colonies on Knotted wrack (Ascophyllum nodosum) I was convinced, at first, they were all Sponges - indeed some appear to be. But it soon becomes apparent that each is a packed colony of animals - seen as a fluffiness to the outlin
A great swathe of these colonies on Knotted wrack (Ascophyllum nodosum)
I was convinced, at first, they were all Sponges - indeed some appear to be. But it soon becomes apparent that each is a packed colony of animals - seen as a fluffiness to the outline in the water. Close-to one can see the tiny feeding antennae of the individual animals.
But, it seems, that a lookalike is here too - I suspect it is Breadcrumb Sponge - Picture 5.
Other sponges co-habit here in this very rich zone.
Picture 6 shows a Hydroid with distinctive stola (stolons); a purse sponge (probably Grantia compressa) and A.hirsutum all co-habiting on knotted wrack, which is not its common host.
CORE EDIT Moved the location by 100m
If YOU handle this organism a lot, remember >>Dogger Itch<<!
Main navigation