PHOTO_20140518_194248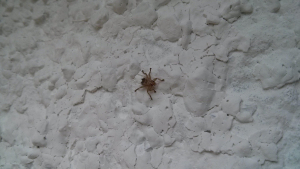 Observation - PHOTO_20140518_194248 - UK and Ireland. Description: Funny looking thing, a bit like a small brown cricket. Found 5 of them together under the apex of my house on the outside where swifts usually nest (the nest came off in bad weather during the winter finally giving me a chance to paint where the nest nor
Funny looking thing, a bit like a small brown cricket.
Found 5 of them together under the apex of my house on the outside where swifts usually nest (the nest came off in bad weather during the winter finally giving me a chance to paint where the nest normally is) whilst painting close to a cavity that could possibly lead into my attic.
I do have a Bearded Dragon lizard and feed it crickets but he's kept downstairs along with the crickets which rarely escape but to me, they don't quite look the same as crickets. I'm just hoping they aren't infesting my attic!
They don't seem put off by me being close not when I tap the wall close to them, they just fall off.
I live within the boundary of the Afan Argoed Forest Park so was wondering if maybe the adult swifts had been catching these things to bring back to the nest and some had escaped. But of course, now the nest isn't there, they have no threat and so can carry on at their leisure to breed :-/
Any help greatly appreciated.
Main navigation