dryopteridaceous fern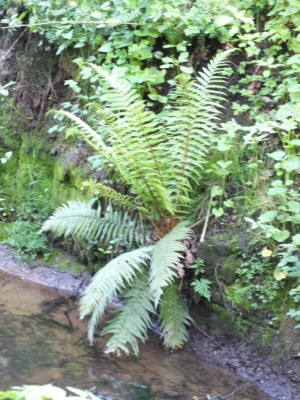 Observation - dryopteridaceous fern - UK and Ireland. Description: With the late persisting leaves from last year I wondered whether this was a Polystichum. Between darkness (growing on a north facing bank in a deep valley in woodland) and distance I didn't get a good enough photograph to show the pinnules clear
With the late persisting leaves from last year I wondered whether this was a Polystichum. Between darkness (growing on a north facing bank in a deep valley in woodland) and distance I didn't get a good enough photograph to show the pinnules clearly, but they looked more like Dryopteris than Polystichum.

It's a bit late to see the fresh colour of the fronds, but it does have the yellowish cast of the scaly ferns. Between size and frond persistence it may well be Dryopteris affinis, but there is considerable intraspecific variation in frond persistence in Dryopteris.

I suspect that the scaly ferns I've seen elsewhere in the tetrad are Dryopteris borreri.
Main navigation