Baby Spiders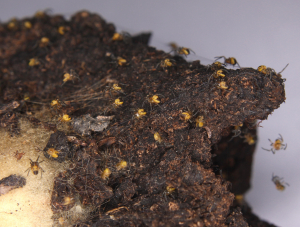 Observation - Baby Spiders - UK and Ireland. Description: Hatched out of 'nest' I brought into house a few months ago. (posted pic of it on 27 Feb '14, titled- IMG_0508is (web ball)). The spiders are only about 1.5 mm across. Several dozen of them. I would assume they will be 'Harvestmen' spiders considering
Hatched out of 'nest' I brought into house a few months ago. (posted pic of it on 27 Feb '14, titled- IMG_0508is (web ball)).
The spiders are only about 1.5 mm across.
Several dozen of them.
I would assume they will be 'Harvestmen' spiders considering where I found the nest, and that they are very common here.
Main navigation