New fruit tree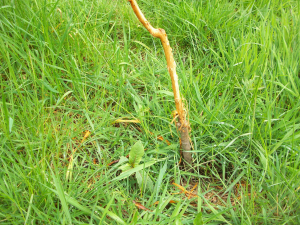 Observation - New fruit tree - UK and Ireland. Description: My first posting here!: I'm a member of a Volunteer group and, in March, we planted a number of assorted fruit trees around an existing nature reserve. We didn't put spirals around the trees so that they wouldn't be too conspicuous (and, maybe, get nicked
My first posting here!: I'm a member of a Volunteer group and, in March, we planted a number of assorted fruit trees around an existing nature reserve. We didn't put spirals around the trees so that they wouldn't be too conspicuous (and, maybe, get nicked!?). Now, some of the trees have suffered from having the bark stripped.
There are Roe Deer in the Reserve and there was evidence, early on, of their browsing the new buds at the top of some of the trees. No rabbits have been recorded recently on the Reserve and the VERY FEW Grey Squirrels are some distance away.
Could it be the deer that's browsing the bark from the fruit trees? If so, why don't they eat it? There are remnants of the eschewed bark around the base of the affected trees.
Main navigation