IMG_1005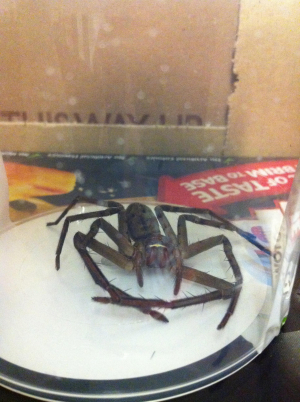 Observation - IMG_1005 - UK and Ireland. Description: I found this spider in some pineapples many years ago and have only just found out about the iSpot community. I've wondered for many years what this critter could have been, so any help in identifying it would be greatly appreciated and lay a many year ol
I found this spider in some pineapples many years ago and have only just found out about the iSpot community. I've wondered for many years what this critter could have been, so any help in identifying it would be greatly appreciated and lay a many year old mystery to bed!

As I was catching it, it did get very aggressive, rearing on it's hind most legs; as if to fend me off or like it was getting ready to attack.

Apologies for the quality of the photo, it was taken on an iPhone 3G at the time.
Main navigation