Narcissus Bulb Fly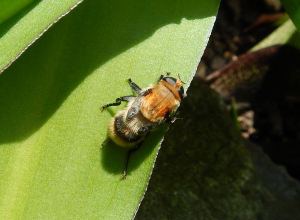 Observation - Narcissus Bulb Fly - UK and Ireland. Description: Spotted clambering over plants on our rockery. Could it be an immature Bumblebee? The wings do not appear to have filled out yet and colours may not have developed - all speculation because I haven't been able to find any details of early stages. I wil
Spotted clambering over plants on our rockery.
Could it be an immature Bumblebee?
The wings do not appear to have filled out yet and colours may not have developed - all speculation because I haven't been able to find any details of early stages.
I will be very interested to hear what it is.

Also known as Greater Bulb Fly, Large Bulb Fly and Large Narcissus Bulb Fly.
Main navigation