Millipede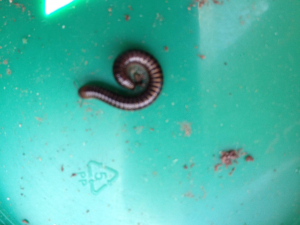 Observation - Millipede - UK and Ireland. Description: Found in garden - moist soil under a plant pot. Difficult to get photo of it uncurled as it was moving too fast! Very dark almost black at first glance but definitely brown banded on closer inspection. No sign of longitudinal stripes. Not sure whether
Found in garden - moist soil under a plant pot.
Difficult to get photo of it uncurled as it was moving too fast!
Very dark almost black at first glance but definitely brown banded on closer inspection.
No sign of longitudinal stripes.
Not sure whether the legs look whitish in first photo - didn't know to check this until looked at ID guide.
Rounded body rather than flat.
Can't put a specific name to it - please can anybody help?
Main navigation