Eupolymnia nebulosa Marine Worm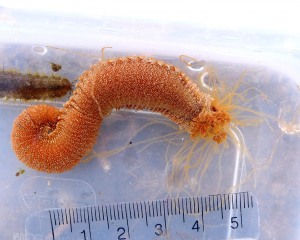 Observation - Eupolymnia nebulosa Marine Worm - UK and Ireland. Description: A surprising encounter for me. Simply looking for something else. This worm is gaudy; long by any st
A surprising encounter for me. Simply looking for something else.
This worm is gaudy; long by any standards, reaching about 170mm, encased at first in a weak shelly tube but, coaxed out it, became a contracted wonder of colourful features. (rule 5cms)
I was aware (and have seen this before) that there appeared to be two worms in the same tube. But one always very short, which I had, previously, assumed to be the other sex (they co-habit) - but it's possible this was autoamputation, because what turned out to be additionally wondrous (for me) is the association with
http://www.ispotnature.org/node/326167
.
>>GBIF Portal<<
Sources:
Collins Complete Guide to British Coastal Wildlife >>ISBN 9780007413850<<
A Student's Guide to the Seashore Fish & Fish >>ISBN 9780521720595<<
Main navigation