Anthophora (Anthophora) plumipes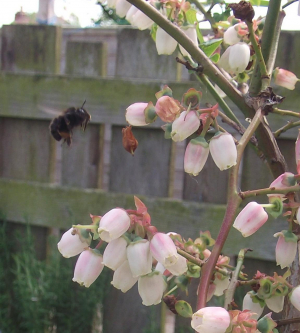 Observation - Anthophora (Anthophora) plumipes - UK and Ireland. Description: This bee was flying very fast and was difficult for photos. It is all black but as it is back lit in the first photo this does not look right (gooseberry bush to the rear so no camera angle available). It is also overloaded with pollen but this did not
This bee was flying very fast and was difficult for photos.
It is all black but as it is back lit in the first photo this does not look right (gooseberry bush to the rear so no camera angle available).
It is also overloaded with pollen but this did not stop it flying fast so much so that I thought it had a yellow band on the body too.
Main navigation