Anthomylid flies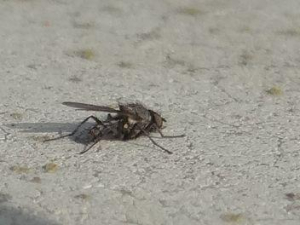 Observation - Anthomylid flies - UK and Ireland. Description: About a dozen of these little flies (smaller than house flies) were sunning themselves on a paving slab in the garden. I often see them in the same place. Maybe they feed on the lichen - though that doesn't seem too likely. Eyes are dark reddish, bod
About a dozen of these little flies (smaller than house flies) were sunning themselves on a paving slab in the garden. I often see them in the same place. Maybe they feed on the lichen - though that doesn't seem too likely.

Eyes are dark reddish, bodies narrow, grey and black striped.

Probably not possibly to identify from this, but someone might.
Main navigation