Hawkish plant, ? what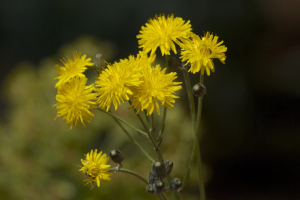 Observation - Hawkish plant, ? what - UK and Ireland. Description: Not so good at these, but should be straightforward for the experts; It's growing in the garden by the house (as shown). Seems to have bracts, but not exactly like sepals. No milk from broken leaf so not a dandelion. About 75cms high. Don't think the
Not so good at these, but should be straightforward for the experts;
It's growing in the garden by the house (as shown).
Seems to have bracts, but not exactly like sepals.
No milk from broken leaf so not a dandelion.
About 75cms high.
Don't think there are scales on the florets.
I'm guessing a Hawksbeard, but not sure.
Main navigation