Moorhen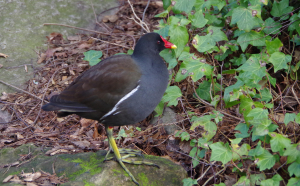 Observation - Moorhen - UK and Ireland. Description: Several pairs with eggs or newly hatched chicks. Bizarrely one pair had nested on the trunk of a fallen tree which was jutting out across the water. Apparently safe - but not really as it would be easy access along the horizontal trunk from the bank! Ne
Several pairs with eggs or newly hatched chicks.
Bizarrely one pair had nested on the trunk of a fallen tree which was jutting out across the water. Apparently safe - but not really as it would be easy access along the horizontal trunk from the bank!
Nest was screened by branches but must have been over 2.5 metres above the water. One very spindly branch trailed down into the water - the male bird was using this as 'stairway to heaven' to deliver nest repair material. His sidestepping up branch was akin to tightrope walking up a very steep slope. Hilarious but we had to admire his efforts.
Main navigation