Yellow/Orange 4 petal flower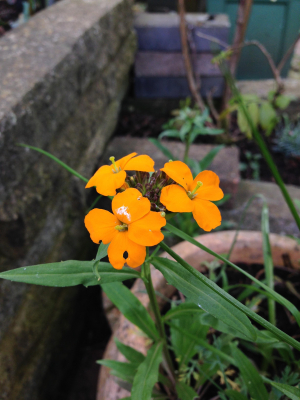 Observation - Yellow/Orange 4 petal flower - UK and Ireland. Description: Small deep Yellow/Orange 4-petal flower, forming a cluster atop long thin stem about 20 - 25cm high. Stem supports long, thin, pointed leaves. Growing in Strawberry pot that last year contained a mix of wild flower seeds and Poppies. Rest died off over
Small deep Yellow/Orange 4-petal flower, forming a cluster atop long thin stem about 20 - 25cm high. Stem supports long, thin, pointed leaves.

Growing in Strawberry pot that last year contained a mix of wild flower seeds and Poppies. Rest died off over winter leaving these behind.
Not even sure if a true wildflower?
Main navigation