Multi-sectional skeletal creature found on a beach in mid-Wales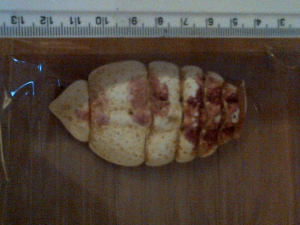 Observation - Multi-sectional skeletal creature found on a beach in mid-Wales - UK and Ireland. Description: This 7cm long creature was found on the beach at Aberystwyth, mid-Wales, on Sunday 3rd Nov '13. It is a sectional exoskelton which is flexible & curves around. There are similiarities between this creature and the one posted here http://www.ispotnatur
This 7cm long creature was found on the beach at Aberystwyth, mid-Wales, on Sunday 3rd Nov '13.
It is a sectional exoskelton which is flexible & curves around.
There are similiarities between this creature and the one posted here http://www.ispotnature.org/node/299433#.Unq5rzHnSko.facebook but with the main difference being 'my' creature has a pointed back-end section.
There are also similiarities with the Isopods but again, they have a square back-end, not pointed like this one.
Main navigation