Large gold fungi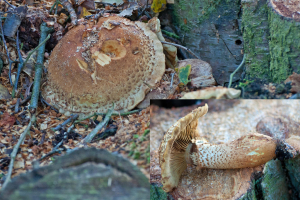 Observation - Large gold fungi. Description: A large Silver Birch had been cut down after the recent gales. These were growing in the middle of the trunk where it branched at about 1.5m high - possibly an old break. About 10-12cm diameter, strong mushroom odour. Cap and stipe scaly, bulbous base to
A large Silver Birch had been cut down after the recent gales. These were growing in the middle of the trunk where it branched at about 1.5m high - possibly an old break.
About 10-12cm diameter, strong mushroom odour. Cap and stipe scaly, bulbous base to the latter. No discolouration on bruising (the cap of one had been cut by the chainsaw!) or latex production.
Maybe an Armillaria?