Hoof or Tinder fungus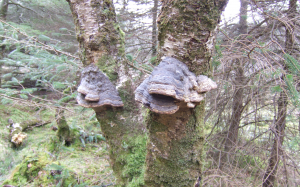 Observation - Hoof or Tinder fungus - UK and Ireland. Description: I think this is Hoof Fungus, it sort of looks like horse hooves and it is growing on Birch. One unusual feature of Hoof Fungus is that if the tree falls, the fungus will start to grow a new bracket, as the underneath spore-bearing surface must be at righ
I think this is Hoof Fungus, it sort of looks like horse hooves and it is growing on Birch.
One unusual feature of Hoof Fungus is that if the tree falls, the fungus will start to grow a new bracket, as the underneath spore-bearing surface must be at right angles to the ground.
It is also called Tinder Fungus because once lit it will hold heat so can be carried and a piece used to start a new fire.
Main navigation