Scarlet or Ruby Elf Cup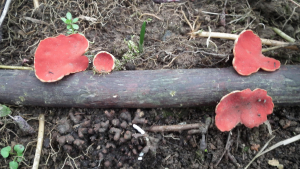 Observation - Scarlet or Ruby Elf Cup - UK and Ireland. Description: Fruiting bodies 10 cm or less. Red in colour and on dead wood. As far as i know, its not yet possible to disambiguate Sarcoscypha coccinea from S austriaca unaided by technology in the field. Hence Genus-level only. If you know better and have tips, th
Fruiting bodies 10 cm or less. Red in colour and on dead wood.
As far as i know, its not yet possible to disambiguate Sarcoscypha coccinea from S austriaca unaided by technology in the field.
Hence Genus-level only.
If you know better and have tips, they would be most gratefully received. Thank you!
Main navigation