Greek mythology in the UK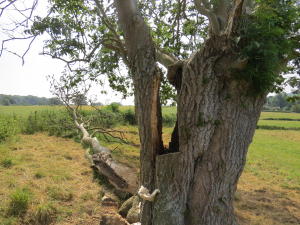 Observation - Greek mythology in the UK - UK and Ireland. Description: Large (40 cm or more in diameter), scaly and very distinctive layers of brackets with a strong and mealy smell. Dryad crops up in the nomenclature of at least 2 Brit fungi: this and another less common arboreal species - Inonotus dryadeus (Oak Bracket)
Large (40 cm or more in diameter), scaly and very distinctive layers of brackets with a strong and mealy smell.
"Dryad" crops up in the nomenclature of at least 2 Brit fungi: this and another less common arboreal species - Inonotus dryadeus (Oak Bracket) and is inspired by the supernatural female tree nymphs (Dryads) of Greek legend.

these were on the inside of the tree bole.
Main navigation