Fungus in lawn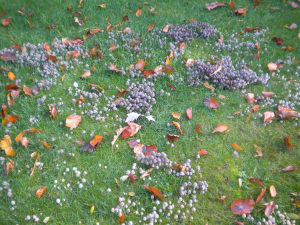 Observation - Fungus in lawn - UK and Ireland. Description: This very delicate looking grey fungus is growing in a large patch where I am fairly sure a tree was removed from a few years ago. It was quite enchanting to see it. Is it just me or has it been a really good year for fungi this time? Too good i
This very delicate looking grey fungus is growing in a large patch where I am fairly sure a tree was removed from a few years ago.
It was quite enchanting to see it.
Is it just me or has it been a really good year for fungi this time? Too good in one of my gardens which is being wiped out by Honey Fungus.
Main navigation