Agaricus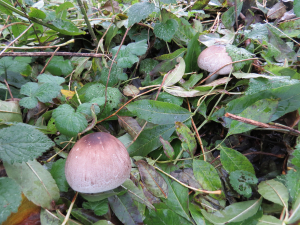 Observation - Agaricus - UK and Ireland. Description: Caps (10-15 cm) covered in greyish scales, particularly towards the centre. Crowded, free gills are quite pallid to begin with, before turning pink when the caps were fully open and looking like they would eventually end up brown. Ring. Distinct unpleasan
Caps (10-15 cm) covered in greyish scales, particularly towards the centre. Crowded, free gills are quite pallid to begin with, before turning pink when the caps were fully open and looking like they would eventually end up brown. Ring. Distinct unpleasant - though not particularly strong - smell of phenol/carbolic. Stained yellow in the bulbous stipe base when cut but not as brightly perhaps as A xanthodermus i have previously bisected. Habitat: deciduous woodland dominated - at this point - by mature Ash Fraxinus exelsior.
A placomyces seems to fit Phillips and other descriptions ive researched very well but admittedly, this is not a species i 'know'
so members thoughts/comments/disagreements are most welcome!
Main navigation