Tree ID help needed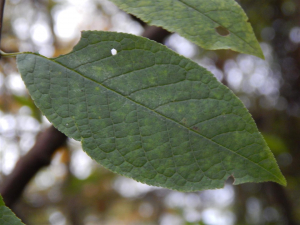 Observation - Tree ID help needed - UK and Ireland. Description: I'm trying to ID a bracket growing on a fallen tree. It doesn't help that I don't recognise the tree. It is in a plantation of larch. I guess it was planted along with them as it doesn't look like anything I have seen locally. Leaves are singly serrated
I'm trying to ID a bracket growing on a fallen tree. It doesn't help that I don't recognise the tree. It is in a plantation of larch. I guess it was planted along with them as it doesn't look like anything I have seen locally.
Leaves are singly serrated. Alternate. Up to 10cm long.
Bark has lentical like marking running vertically. It has a coppery hue.
Buds are single.
Main navigation