USB x10 ladybird 26oct2013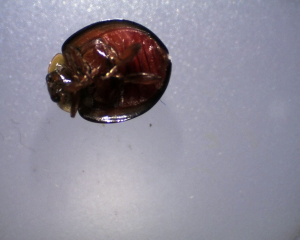 Observation - USB x10 ladybird 26oct2013 - UK and Ireland. Description: Presume Ladybird. Not good on invertebrates! 6mm total length, 4mm width. 2 larger red spots to front (1 in photo), 2 smaller red spots to rear. Rest black. Photos are with USB microscope x '10' Near wet scrub mixed woodland but no pine (habitat for E
Presume Ladybird. Not good on invertebrates!
6mm total length, 4mm width.
2 larger red spots to front (1 in photo), 2 smaller red spots to rear. Rest black.
Photos are with USB microscope x '10'
Near wet scrub mixed woodland but no pine (habitat for E. quadripustulatus).
Any ideas please!!
Main navigation