Banded pincer weed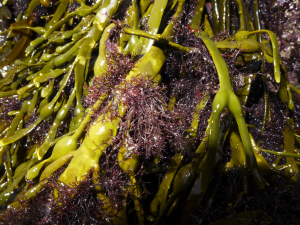 Observation - Banded pincer weed - UK and Ireland. Description: Another simple and very common seaweed, or so it seemed. Cluttering and massing epiphytically at the joints and stems of Egg Wrack (Ascophyllum nodosum) this looks quite brown, is a little brittle and with quite pointed ends. It is distinctly banded. In
Another simple and very common seaweed, or so it seemed. Cluttering and massing epiphytically at the joints and stems of Egg Wrack (Ascophyllum nodosum) this looks quite brown, is a little brittle and with quite pointed ends. It is distinctly banded.
In the field, I had it pinned down to a Siphon Weed (Polysiphonia - say the expected P.lanosa ) UNTIL I looked in the Binoscope.
It then became a Ceramium and perhaps even C. virgatum. But then, to be certain, I followed up for a proper ID . A mistake!
...
26th Added Picture 6, which shows that Pincer Weed not only clusters at forks and joints but also seems to grow from the bladders themselves. See comments.

EDIT Added a Tag only (20/12.2014) Post origin 17th October 2013
Main navigation