Dusky Brindled Pearl (Udea prunalis)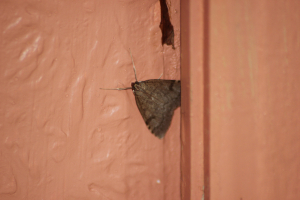 Observation - Dusky Brindled Pearl (Udea prunalis) - UK and Ireland. Description: A moth I've been puzzling over for a while. Came to a light left on overnight. The size and shape of a carpet moth but I can't find anything like it in Waring and Townsend. Can anyone help, please? Edit: 2nd photo added. Taken with flash so colour may be
A moth I've been puzzling over for a while. Came to a light left on overnight. The size and shape of a carpet moth but I can't find anything like it in Waring and Townsend. Can anyone help, please?
Edit: 2nd photo added. Taken with flash so colour may be misleading.
Edit: Changed to match Chris's ID. Many thanks.
Main navigation