Alder Leaf rust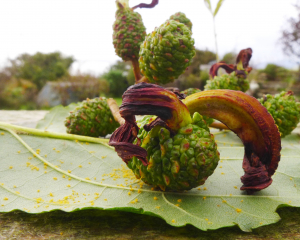 Observation - Alder Leaf rust - UK and Ireland. Description: For three years running Alder Tongue (Taphrina alni) has appeared on my 6-8 yr old trees. Also seen here is a yellow leaf rust. This appears on the lower (under) sides of a few leaves and is not widespread. Undersides of leaves ONLY but local willows sh
For three years running Alder Tongue (Taphrina alni) has appeared on my 6-8 yr old trees. Also seen here is a yellow leaf rust.
This appears on the lower (under) sides of a few leaves and is not widespread.
Undersides of leaves ONLY but local willows show a yellow rust on both sides. Close scrutiny shows the Salix version to be a little different in form (not colour)
There is quite a lot of inaccessible text-material (plenty of photos) on the web but a very close lookalike here (Dave Fenwick again) http://www.aphotofungi.com/rust_melampsoridium_hiratsukanum_alder.html
Whilst accepting that this posts will attract few agreements and that careful scrutiny of a specimen by an expert is preferable and that it has not been recorded north of Appin, I am convinced - easy to say!
I can easily reduce the ID to Melampsoridium Sp.
Main navigation