Bright Limpet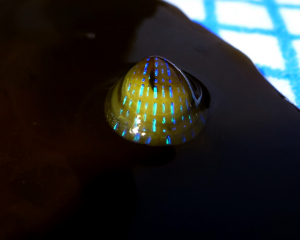 Observation - Bright Limpet - UK and Ireland. Description: I am 'in love' with this little animal. This is only the second time I have seen it - few people do. Found usually on the flat fronds of Kelp (most likely Laminaria hyperborea in this case) or the stems and also the holdfasts - it was no disappointment t
I am 'in love' with this little animal. This is only the second time I have seen it - few people do.
Found usually on the flat fronds of Kelp (most likely Laminaria hyperborea in this case) or the stems and also the holdfasts - it was no disappointment today, appearing in great numbers just off-shore in a medium swell.

Still goes under a few names (see http://www.ispotnature.org/node/325925#comment-108411) but the most preferred and possibly the 'correct' one is Patella pellucida (WoRMS). Only Helcion pellucidum is accepted by NBN - maybe that will change with the new version due this coming week.
WoRMS - name change
See comment.
Main navigation