pea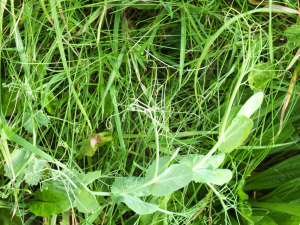 Observation - pea - UK and Ireland. Description: Growing at inner edge of verge of A50, next to footpath. Appears to be a Lathyrus, but I can't identify which one. The leaf consists of a pair of foliose organs, which could be stipules or the sessile leaflets of a sessile monojugate leaf, and
Growing at inner edge of verge of A50, next to footpath.

Appears to be a Lathyrus, but I can't identify which one. The leaf consists of a pair of foliose organs, which could be stipules or the sessile leaflets of a sessile monojugate leaf, and a branched tendril. There are only two afoliolate species in my books. It's obviously not Lathyrus nissolia, and Lathyrus aphaca has truncate stipules and a simple tendril so it's not that either.

The stems are not winged, and they're not obviously angled either (they might be weakly angled).

I can't find a species that matches these characteristics, so I'm wondering whether this is a juvenile form.
Main navigation