Sort of 'stick caterpillar'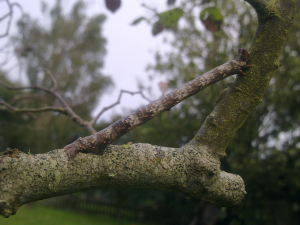 Observation - Sort of 'stick caterpillar' - UK and Ireland. Description: Spotted an odd twig on my (rather weak) quince tree. Only discovered it was caterpillar like when I touched it and lifted front end from branch. It reconnected after a few minutes. Was still there on October 8; perhaps it is planning to pupate?? I have
Spotted an odd twig on my (rather weak) quince tree.
Only discovered it was caterpillar like when I touched it and lifted front end from branch. It reconnected after a few minutes. Was still there on October 8; perhaps it is planning to pupate??
I have no idea what it is can anyone tell me please?
Main navigation