Coleoptera - Agabus sturmii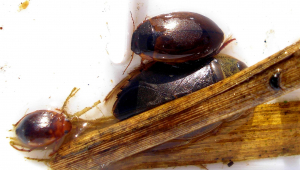 Observation - Coleoptera - Agabus sturmii - UK and Ireland. Description: The beetle on top of the Saucer Bug is the beetle refereed to in this image. Worth a mention; all my observations uploaded in this session were netted in one sweep of water weed. 8 saucer bugs, 1 smaller by 2 mm, 4 of the tiny yellowish black headed b
The beetle on top of the Saucer Bug is the beetle refereed to in this image.

Worth a mention; all my observations uploaded in this session were netted in one sweep of water weed.
8 saucer bugs, 1 smaller by 2 mm, 4 of the tiny yellowish black headed beetles, 2 of the slightly larger all yellowish beeles, 2 of the redish tinged beetles, only one of the beetle depicted on this page, 1 back swimmer and 1 Plea minutissima of which there could of been more.
Main navigation