Hawkweed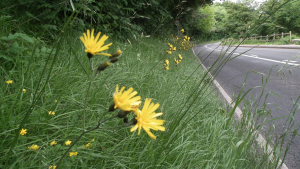 Observation - Hawkweed - UK and Ireland. Description: plenty of these (always in semi-shade) at this site: a mix of ancient grassland, roadside (shown), woodland, disused quarry and present-day golf course. away from human habitation, so probably a native species i suspect. basal rosette of occasionally den
plenty of these (always in semi-shade) at this site: a mix of ancient grassland, roadside (shown), woodland, disused quarry and present-day golf course. away from human habitation, so probably a native species i suspect.
basal rosette of occasionally dentate, ovate leaves.
looked none to dissimilar to the H brittanicum specimen depicted in Phillips' "Wild Flowers of Britain" but there are so many Hawkweeds and im certainly no expert!
Main navigation