Fungi growing on top of fallen beech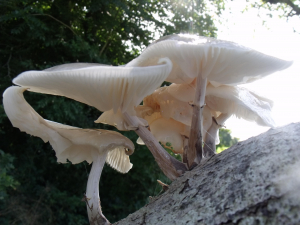 Observation - Fungi growing on top of fallen beech - UK and Ireland. Description: Found on top of a beech tree that fell 5 years ago, with meadow on north, south and west sides, woodland on east side. It looks like a Pleurotus cornucopius but is strikingly white and has a sheath on the stipe, up to half way up. I've checked several b
Found on top of a beech tree that fell 5 years ago, with meadow on north, south and west sides, woodland on east side.
It looks like a Pleurotus cornucopius but is strikingly white and has a sheath on the stipe, up to half way up.
I've checked several books but nothing mathces exactly.
Main navigation